One Step at a Time
March 31, 2009 by Lesjak Planning
Since the low point of March 6th, the S&P 500 Index has had a nice gain of over 20%. The action of the rise, defined by volume and advances verses declines, has indeed been very strong and positive. More than a couple of the daily moves have been unprecedented.
In recent weeks, government numbers on housing sales, mortgage applications, and consumer spending have all been surprisingly positive. The Treasury has proposed a public-private partnership to entice private investors into purchasing the bad mortgages that are on the banks' books. Also last week, accounting rules were relaxed regarding the valuation banks have had to use in pricing their bad loans.
We continue to believe that market valuations are attractive and the $9 trillion plus in cash on the sidelines (most of which is earning less than 1 percent) will move back to the equities as the economic outlook improves. But just as we suggest tempering emotions on market declines, we must also be careful of getting too excited on the upward moves. There is a lot we have to get through yet, but we remain confident that by staying patient and disciplined in our investment practices long-term investors will be rewarded.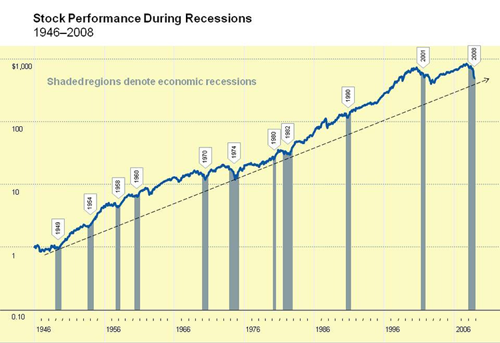 While this news and recent market actions are encouraging, we need to temper it a bit by suggesting all is not clear yet.
Unemployment is still a major concern, and if past recessions are a guide, job losses will continue to climb for a while even after the economy starts to rebound. Problems with the auto industry will continue to challenge the jobs outlook.
The quick rise in equities in recent weeks, led by the technology and banking sectors, has taken readings from very oversold to currently over bought on a near term basis. This leaves the markets now vulnerable to a pullback. At this point we are looking for the markets to hold on to gains of the past month and not retrace back to the old lows.
While recent economic numbers appear stronger, they do not yet indicate an upward trend. However, at the very least, they may be signs the economy is stabilizing. Since the markets look forward, any strength should help investors begin to look at stock prices and their earnings potential in a positive light again