A Dose of Reality
February 25, 2009 by Lesjak Planning
Recently, we discussed the bottoming process that takes place during major market declines. The current market decline, and the events of this past week, continues to follow the historical blueprint as we are now testing the lows reached on November 20th, 2008. Finding support at these price levels, for a second time, is an important step for the stock markets to move forward. The media, in all its wisdom, is more so compelled to report to us how the stock markets have retraced their values back to 1997 levels.
Negative news is not always accurate.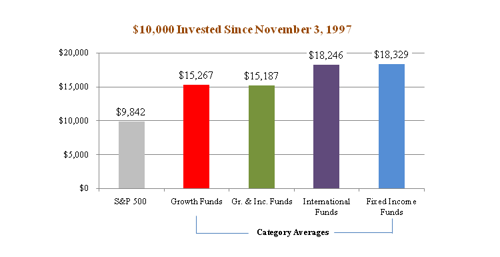 It is true, that if you invested $10,000 into the S&P 500 Index on November 3rd, 1997 you would have $9,842 today.
Startling, to say the least. Yet, our research when selecting money managers for your portfolios yields vastly different results. The chart below illustrates how the money managers we have selected for your portfolios, broken down by category, compare with the S&P 500 Index since 1997. Of course, each of you has a different mix of the categories below in your allocation. But clearly, this shows the average outperformance of managed funds over the static index for the stated period. A well prepared asset allocation, quality money managers, and rebalancing when appropriate are the hallmarks of successful long term investing.