Hurricane Season
September 28, 2022 by Lesjak Planning
As we begin this update, Hurricane Ian is bearing down on the state of Florida expected to wreak havoc and destruction and we realize that investing is a lot like a hurricane. Long periods of sunny days are interrupted by short, scary periods of clouds and darkness, then back to sunny days again. Like hurricanes, these periods of market volatility can ruin lives and plans if not properly prepared for.
Having been in business and experiencing the last major bout of runaway inflation and the ensuing raising of interest rates by the Federal Reserve in the early 1980's, it caused all sectors of the investing markets to be sold off. Much like recent action, investors hit the panic button and sold mostly everything for the safety of cash.
Included in your most recent account statements were graphs depicting the long-term performance of equities. During the very positive overall performance depicted in those graphs are short term corrections, or hurricanes. The graph below illustrates the cycle that happens in each one of those corrections. The current correction we are experiencing is no different with the only question being where exactly we are in the cycle.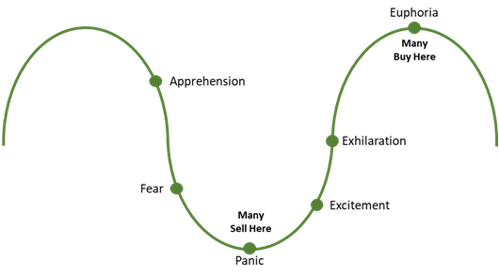 Our strategy has always been to buy quality companies managed by experienced managers and allocate assets across the various available investment sectors in accordance with your goals and risk level. We do not attempt get rich quick strategies in speculative markets with substantial downside risk. The past results speak for themselves for long-term investing in quality companies. Proper planning would have a balanced investment portfolio with appropriate cash levels to meet income needs.
We will get through this and the sun will come out once more. The dark days of 1980-1982 did come to an end and the longest bull market in stocks and bonds in history commenced right after.
The bi-annual season of political advertising in the media and mail is once again upon us. This can be the most brutal month of the act (or lack of) politics. Do not take anything for granted. Your vote in November is your voice.
Blame for this current decline or reset can be assessed to many
Blame for this current decline or reset can be assessed to many. The Fed keeping interest rates near zero for too long in response to the pandemic caused savers to run to the stock and bond markets to try to increase returns and inevitably taking company values to extremes. Massive government spending in the form of help during the pandemic continues even today in a debatable effort to bring down inflation. Consumers and companies that should have long ago filed bankruptcy or failed, used easy and cheap credit to extend the inevitable for making bad decisions.
We believe that there most likely will be more pain to come since the inflation/interest rate issue will need to get to a net zero. Either we will need to see our economy slow down to reduce the current inflation numbers near 8%, or the Fed will need to keep increasing interest rates up to the rate of inflation. No one knows the time frame this will take to happen, so volatility should be expected to continue at least for the near future.