Happy New Year 2018!
January 2, 2018 by Lesjak Planning
Over the years we have all seen the equity markets rise, fall, then rise again. Our lives inevitably change due to circumstances beyond our control. At times, it may seem there is not much that we do actually control at all. That is why we set goals, look to the future, formulate a plan.
Actually, we make plans for each day. The errands we will run, the tasks that need completed. If you are anything like the rest of us, they usually don't all get done because something unexpected occurs – but we make progress. Then it starts all over again the next day.
We go through the process of formulating a financial plan for you because it becomes the building block for your financial well-being. How we have done that over the past four decades has evolved through new technologies, changing strategies, new tax laws, etc. – but we still feel it is a necessity. You need it to make progress.
There are many aspects to this past year that were expected. Our economic growth continued its positive trend. Worldwide economic growth was also strong with every major economy experiencing positive growth for the first time in ten years. The Federal Reserve Board embarked raising interest rates without much impact on equities. Concurrently, bond markets have leveled off, but are still holding their value. Some economic sectors are doing very well (technology, financials, consumer goods), while others are struggling a bit (energy, brick-and-mortar retailers).
Geopolitical events (which we assume will likely occur every year) continue to raise the level of uncertainty in the short term. However, recall the short term market turmoil caused by Brexit in 2016. Within two months equity markets had recovered and moved forward. Those types of events come and go. Once cooler heads prevail, equity market valuations typically return to normal.
When deciding how to move forward, it is best to reflect on how we got here. It would be rather convenient if we could always take a straight line from Point A to Point B and accomplish our goals. In reality, some of the expected occurs while some of the unexpected occurs as well. We then evaluate your plan and decide what, if any, adjustments are needed. This is how we are able to make progress towards your primary goals. That is how we got here, and how we will move forward.
Our firm deeply appreciates the trust you have placed in us over the years. We will continue to work diligently in all aspects of our business to bring you the advice and service you have become accustomed to. We wish you and your families a safe and prosperous New Year.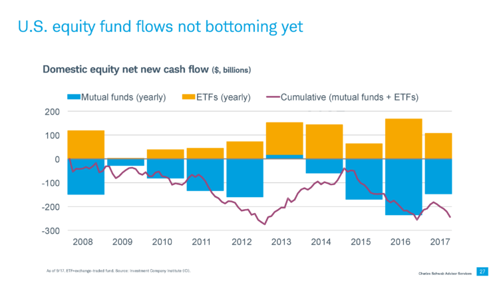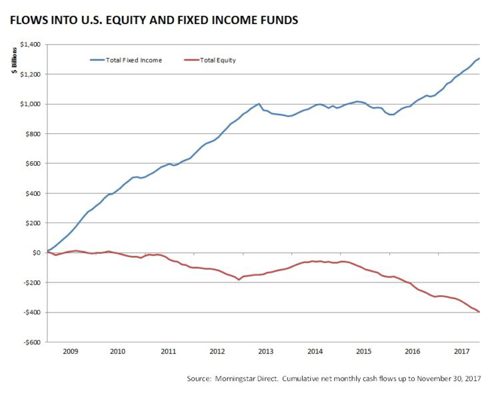 Happy New Year!
The Lesjak Planning Team
Dave, Mike, Marc, Nathan, Kevin, Kathy, and Jessica
There were also many things that did not go as expected.
Equity market volatility reached historic lows as the S&P 500 Index has achieved positive returns for each of the past 14 months (15 months assuming December holds true). The correlation between equity markets around the world has hit a 20 year low – which is a good sign for diversified portfolios. The graph below illustrates the tenth consecutive year that more money has been redeemed from Domestic Equity funds than invested into them. While some of that money goes to ETF's (Exchange Traded Funds), the net result is still negative. Imagine the missed opportunities for those investors who sold equities the previous ten years and purchased fixed income?
Another unexpected event which has taken the financial world by storm is the Bitcoin phenomena. In short, it is a digital currency with no backing from any central bank, rarely accepted as currency by online retailers, and whose price is determined on Bitcoin exchanges that are not monitored by any authorities for consumer protection. The digital currency has experienced a very significant rise in price in a relatively short period of time – therefore the obvious allure to many looking for a get rich quick scheme. Those who bought Bitcoin early and were able to maintain ownership (some bitcoin exchanges have gone bankrupt) have clearly made a substantial gain on their investment. However, this type of investment is very speculative in nature and one that we feel falls into the category of a "short term fad." Ultimately, the real question is whether or not it fits into your plan.