Don't Miss the Best Days
October 23, 2008 by Lesjak Planning
The stock markets continue to attempt to digest the daily barrage of new information stemming from the credit crisis, current economic reports, testimonies on Capitol Hill by economic experts, and the current political backdrop. As if that wasn't enough, recent conversations with money managers we use indicate the untimely liquidation of large hedge funds has significantly added to the volatile trading we are seeing in the stock markets.
While this downturn, and the large day-to-day swings in the markets, understandably cause some increased anxiety, there is still good reason to remain fully invested. The chart below highlights how missing just a fraction of the best days in the stock markets can cost you significantly in your overall return. Consider that missing the best 50 days from 1984 to 2003 would have reduced your overall return to basically zero for that 20 year time period.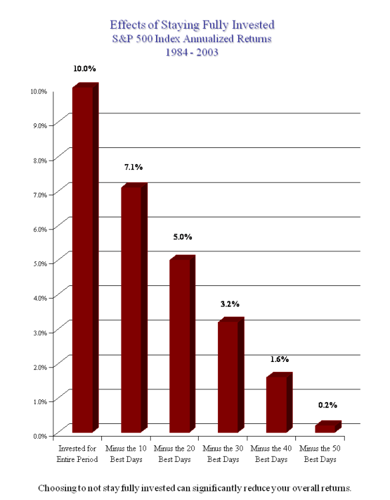 Certainly, there are those that may be invested with longer time horizons than others.
Even if you have a shorter time horizon, remaining invested during these types of downturns will help you participate during the best days and ultimately improve your overall returns. With cash levels in money market funds at all-time highs, investors are poised to take advantage of these discounted prices. A good example would be last Monday when the Dow Jones Industrial Average surged upwards over 900 points in a single day.